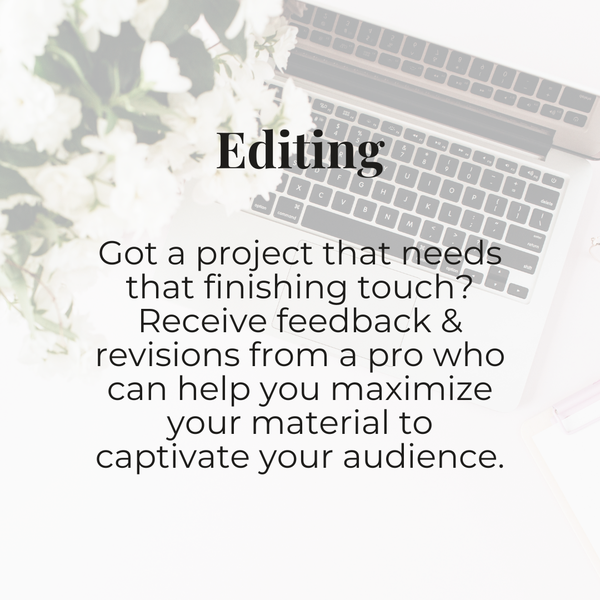 ← Back
Editing
Are you finally writing or starting that passion project you've always dreamed of? Launching a website or already have an established brand? I'll come alongside you and tweak your copy 'till it's saying exactly what you need it to say -- error free and never boring!
Feedback and edits can include (depending on the type of writing):
Increasing keyword density without making your web-page sound like a robot wrote it
Editing for accuracy, typos, flow, tone, style

Ensuring your message is reaching the reader clearly
Matching your writing to your intent and voice (sometimes copy doesn't match the person or brand, we can fix that!)
Checking quality & length of copy, CTAs, etc.
Checking for formatting (provided it's a format I'm familiar with)
Story/content development, consistency, structure & readability
Keep in mind -- I am not your average editor. I break grammar rules and if you wanted to call me an outlaw of the written word, I wouldn't mind. My focus will be more on making sure your writing says what YOU want it to say and communicates that in a way that your readers will love -- rather than trying to make it look like everyone else's stuff.
*IMPORTANT: This listing is for 2 hours of editing services. The amount of hours you will need will depend on the length of your project.
For example, a screenplay typically takes about 2 hours for a thorough read and edit. A website, just depending on how many pages it is, might be an hour or so.